ROBERT FIFE, BILL CURRY AND SEAN SILCOFF
OTTAWA
THE GLOBE AND MAIL. PUBLISHED MARCH 27, 2020 UPDATED 2 HOURS AGO
Prime Minister Justin Trudeau has unveiled a sweeping emergency package for small-business owners, including loan guarantees and significantly higher wage subsidies to help them cope with the dire economic consequences of the COVID-19 pandemic.
The small-business community had been pressing Ottawa to boost wage subsidies well beyond the 10 per cent the government announced last week.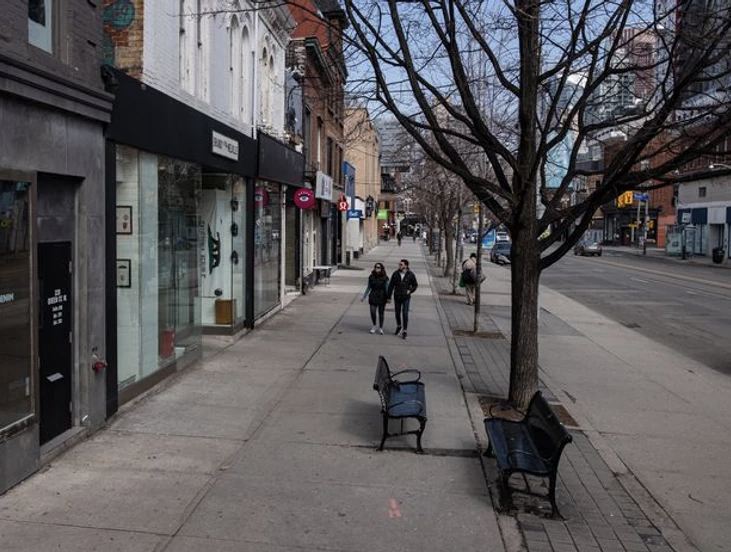 After a provincial order to shut all non-essential businesses in Ontario, a normally bustling Queen Street West is lined with closed stores and empty sidewalks, in Toronto, on March 25, 2020
"It is clear we have to do more – much more – so we are bringing that percentage up to 75 per cent for qualifying businesses," Mr. Trudeau told his daily news conference Friday. "This means that people will continue to be paid even though their employer has had to slow down or stop its operations because of COVID-19."
Large wage-subsidy programs in other countries have been subject to several conditions. Mr. Trudeau declined to provide specifics on Canada's program, saying the details were still being reviewed and that further information would be released Monday.
The new wage subsidy will be backdated to March 15, he said.
The Prime Minister said small storefront businesses are also reeling from being shuttered and that Ottawa would provide emergency loans.
"To help you bridge to better times, we are launching the Canada Emergency Business Account. With this new measure, banks will soon offer $40,000, which will be guaranteed by the government," he said.
The loans will be interest-free for the first year, and $10,000 will be forgivable.
"Our government will also provide an additional $12.5-billion through Export Development Canada and Business Development Bank to help small and medium-sized businesses with their operational capital requirements," Mr. Trudeau said, adding that the government will defer GST and HST payments as well as duty taxes on imports until June.
"This is the equivalent of giving $30-billion of interest-free loans to businesses," he said.
But the government did not announce an estimated fiscal cost of all the measures announced Friday.
As part of its original March 18 package of measures, the 10-per-cent wage subsidy was for a maximum of 90 days – $1,375 for each employee and $25,000 for every employer – and would have cost the government about $3.9-billion. The cumulative package of fiscal measures announced that day was worth $27-billion, plus $55-billion in tax deferrals.
Earlier this week, the government revised that plan and announced a new direct subsidy of as much as $2,000 a month for up to four months called the new Canada Emergency Response Benefit (CERB). That program is aimed at laid-off or furloughed workers, as well as individuals who suddenly have no income. The government later said the new CERB would cost $40-billion.
John Ruffolo, vice-chairman of the Council of Canadian Innovators (CCI) – a national business association that advocates on behalf of Canada's fastest-growing technology companies – championed the government-backed loans idea for small and medium-sized businesses and praised the government's new measures.
"I am very pleased with today's announcement in supporting the unprecedented, disastrous impact to Canada's small and medium-sized businesses. The federal government has carefully listened to our recommendations and crafted a great solution to an evolving problem."
Benjamin Bergen, CCI's executive director, said the measures will help businesses on "track to hit a wall in April and go bankrupt.
"The government is finally hearing the concerns from the business front lines by bringing forward wage subsidies, and we urge them to continue to find ways to appropriately support Canada's entrepreneurs during this difficult time," he said.
Goldy Hyder, CEO of the Business Council of Canada, said that with the more concerted measures announced Friday, "it's as if a light bulb went on [regarding] the severity and risks to the economy by taking small steps. Thankfully the bulb isn't flickering now."
He welcomed the measures "as a way to preserve jobs and the supply chain so critical to the Canadian economy" but noted that the government still hasn't delivered on help for the hard-hit aviation, energy and tourism sectors.
Laura Dottori-Attanasio, CIBC's retail banking head, said the banks are working with Ottawa to get the new $40,000 loan program operational as soon as possible.
"There is no doubt that small businesses are the backbone of the Canadian economy, and the urgent need for relief among this important segment of the economy is significant," she said in a statement.
Michael Wood of Ottawa Special Events said that while he appreciated the wage subsidy boost, "the layoffs have already occurred. For industries such as mine – hotels, restaurants, et cetera – there is absolutely no revenue coming in for the foreseeable future, so even at 75 per cent, it doesn't make sense."
And while he applauded the government-guaranteed loan program, "the $40,000 amount does not cover one month of my overhead."
Daniel Kelly, president and chief executive of the Canadian Federation of Independent Business, thanked the government for responding to calls for help, including his organization's specific request for interest-free loans.
He said the wage subsidy "will not help every company or employee but will help small firms retain hundreds of thousands of workers who would otherwise be laid off" and hire back some workers that were already let go, he said in a statement.
"There are thousands of employers who have been making decisions day by day, doing their best to continue to pay their workers with the full knowledge that their resources will soon run out. … Ensuring as many workers as possible remain connected to and paid by their employers will reduce the financial and mental stress on workers and ensure that Canada's economic recovery will begin the day after the health emergency phase ends."
He said key details still lacking from the announcement include who qualifies, the new cap for each employee and employer and whether businesses must pay 100 per cent of regular wages – some businesses have already asked employees to take a temporary wage cut.
Mr. Kelly said businesses were also looking for help with fixed costs such as rent and property taxes.
With files from James Bradshaw and Josh O'Kane